DEEP TRANSCRANIAL MAGNETIC STIMULATION
NON-INVASIVE WITH LOW SIDE-EFFECTS
TMS is an outpatient procedure that is well-tolerated for the majority of patients
FDA CLEARED FOR DEPRESSION, OCD, AND ANXIETY
TMS was FDA cleared for depression in 2008 and more recently for OCD and anxiety in depression
COVERED BY MOST PRIVATE PROVIDERS
Most insurances will provide reimbursement for TMS as an second-line treatment
O U R A P P R O A C H
At Neurology Center of NY we are committed to providing our patients with evidenced-based interventional psychiatry procedures as part of our continuum of integrated supports. TMS has been recommended by the American Psychiatric Association since 2010 and FDA cleared since 2008 for the treatment of major depressive disorder. In 2020 Deep TMS was also cleared for treatment of obsessive compulsive disorder, and most recently anxiety in depression. Our clinic has the BrainsWay Deep TMS machines ensuring our patients the widest range of FDA approved TMS treatments in the region. Our focus is the utilization of the most effective TMS technology in psychiatric medicine for depression, anxiety, and obsessive compulsive disorder. Deep TMS works by delivering a series of repetitive, brief and highly focused magnetic pulses, used to stimulate specific neural networks in the brain associated with the condition being treated. This stimulation and strengthening these neural pathways helps restore more balanced brain activity. By coming to The Anxiety Center, you can be sure that you or your loved one will receive compassionate and effective care from experts committed to helping you achieve the best possible outcome.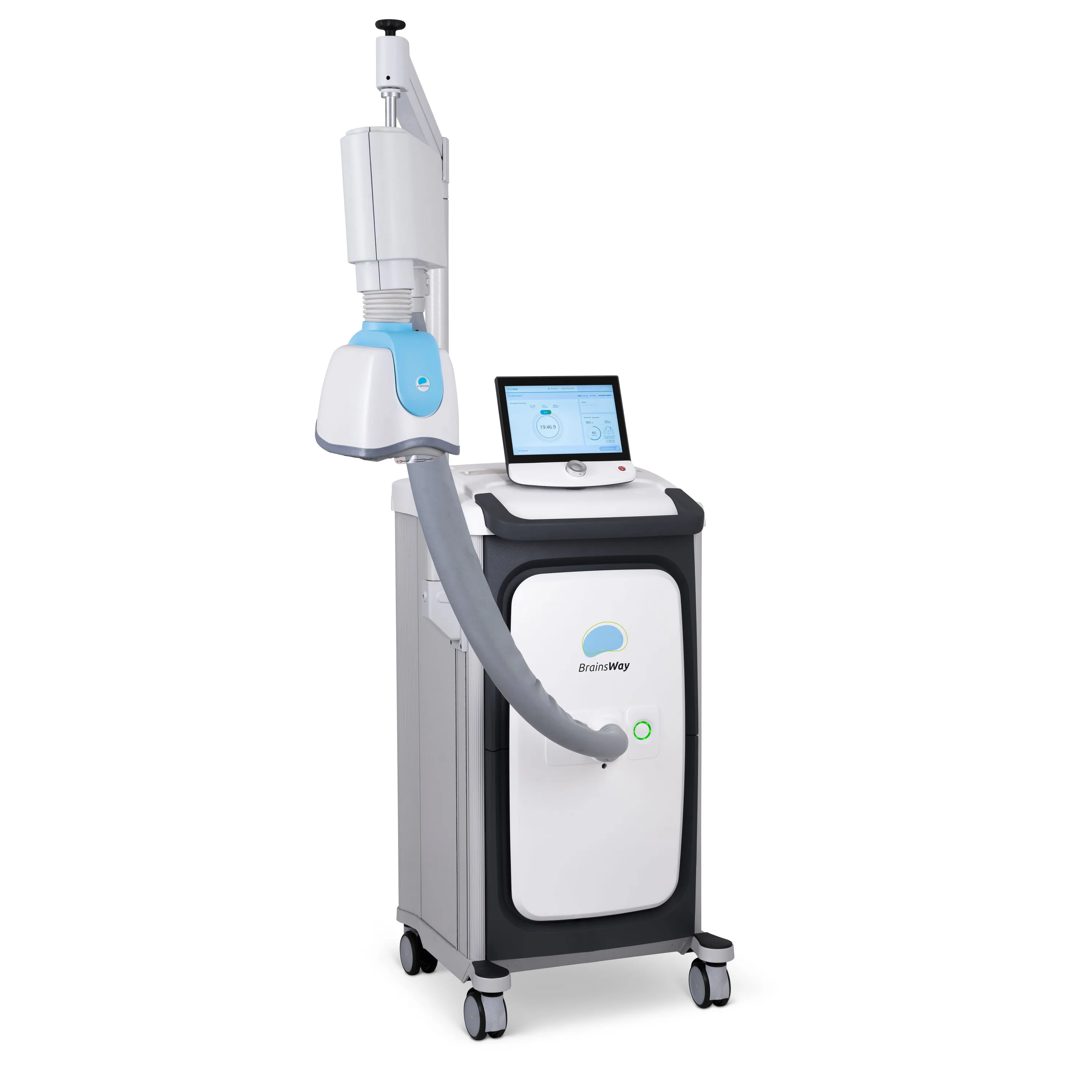 THE DIFFERENCE
The Best Tech in the Region
Deep transcranial magnetic stimulation (Deep TMS™), is a noninvasive treatment process that directly stimulates brain structures associated with mental health conditions. This is done utilizing electromagnetic fields generated by our patented H-coil to safely reach deeper brain structures and influence their neural activity.
Deep TMS is a noninvasive treatment course proven to offer symptom relief for various mental health conditions. Eligibility for Deep TMS treatment is determined by a person's insurance provider. As Deep TMS is safe to combine with other forms of therapy, many insurance providers consider those currently undergoing medical treatment or psychotherapy, as well as treatment-resistant clients, to be eligible for Deep TMS
Numerous clinical studies in reputable peer-reviewed journals have found that BrainsWay's Deep TMS therapy is successful in alleviating symptoms of mental health conditions and offering patients relief. treatment.
BrainsWay Deep TMS therapy has been tested in over 60 clinical studies, for various clinical indications, in leading institutions worldwide. The FDA has cleared BrainsWay Deep TMS therapy for treatment resistant depression and it is currently available in the U.S., Europe, and South America. BrainsWay is also indicated by the FDA as an intended adjunct treatment for adult patients suffering from Obsessive Compulsive Disorder (OCD) FDA De Novo and Anxiety in Depression.
Deep TMS have shown it to be a safe treatment with no lasting, substantial or systemic side effects, all of which can be caused by medication. Specifically, side effects such as weight gain, dry mouth, sexual problems, or memory effects were not observed in patients following treatment. No longer-term effects were observed during a three-month follow-up.
BrainsWay's Deep TMS treatment is normally spread out over four-to-six weeks. During this time, patients come in for sessions five times per week and each of these sessions last about 20 minutes. Depending on the mental health condition being treated, there may be additional maintenance sessions after the initial course of treatment.
Deep TMS treatment is safe to combine with any sort of medication or psychotherapy. Deep TMS is both noninvasive and found to be effective in treating a variety of mental health conditions, in combination with other forms of therapy or as a standalone treatment.
Deep TMS coverage depends on the treatment type, geographical location, and insurance plan. In the United States, BrainsWay's Deep TMS therapy is covered by Medicare and nearly all major private insurers to treat major depressive disorder (MDD). BrainsWay is actively seeking coverage for obsessive-compulsive disorder (OCD) treatment and smoking cessation, which, like MDD, are FDA-cleared.
The cost of BrainsWay's transcranial magnetic stimulation, or TMS therapy, varies depending on the condition being targeted, the recommended number of sessions, and the insurance plan you belong to. We are proud to offer the lowest out-of-pocket rates in the industry including offering up one additional condition treatment free of charge (e.g., OCD + Major Depression). Deep TMS Cost Standard Deep TMS protocol: $6000.00
For the most part, just about any type of patient is capable of getting TMS therapy. There are a few exceptions, however. The following types of individuals may not qualify for TMS therapy:
Patients who have undergone brain surgery and still have magnetic metals in the brain.
Patients who have never responded to other depression treatments. Very elderly patients
Patients who have seizures